BSU celebrated the 25th anniversary of the Agdaban Act of Genocide
07/04/2017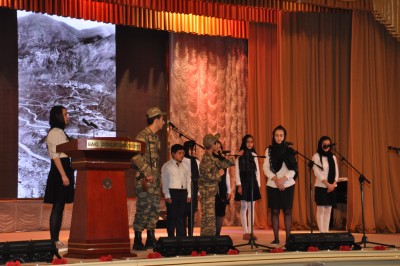 An event dedicated to the 25th anniversary of the Agdaban Act of Genocide was held at the Baku State University (BSU). The event was organized by the Cultural and Public Association "Ashug Shamshir" together with the Library Science and Information Department of the Baki State University.
Opening the event, the rector, academician Abel Maharramov said that the tragedy in Agdaban of the Kalbajar region is one of the bloodiest pages of Armenia's aggression against Azerbaijan. The rector spoke about the bloody tragedy in the village of Agdaban, committed on the night of April 7 to April 8, 1992, the terrible genocide against our people, committed by the Armenian occupiers in order to capture Kalbajar. The academician noted that the village of Agdaban was completely burned, hundreds of people were tortured, many were taken hostage, and were missing. 40 villagers were killed, including eight elderly people, two children and seven women were burned alive.
The event ended with a literary and artistic composition of the Kalbajar schoolchildren and the awarding of the winners of the articles about the Aqdaban genocide with the diplomas of the Ashug Shamshir Cultural and Public Association.